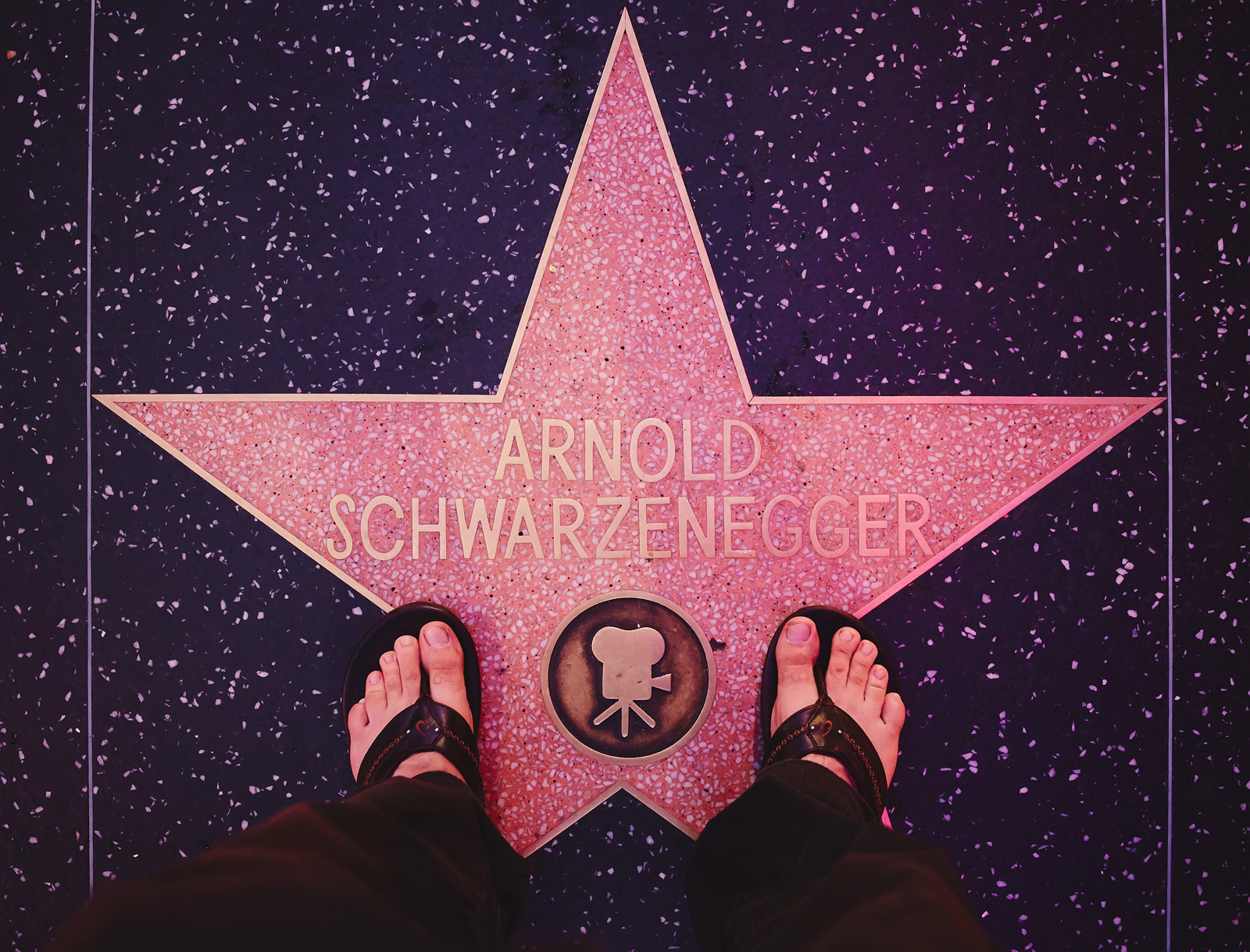 This is one of the SADDEST stories ever told in Hollywood. His name is Sylvester Stallone.
One of the BIGGEST and Most famous American Movie superstars. Back in the day, Stallone was a struggling actor in every definition.
At some point, he got so broke that he stole his wife's jewelry and sold it. Things got so bad that he even ended up homeless. Yes, he slept at the New York bus station for 3 days. Unable to pay rent or afford food.
His lowest point came when he tried to sell his dog at the liquor store to any stranger. He didnt have money to feed the dog anymore. He sold it at $25 only. He says he walked away crying.
Two weeks later, he saw a boxing match between Mohammed Ali and Chuck Wepner and that match gave him the inspiration to write the script for the famous movie, ROCKY. He wrote the script for 20 hours.
He tried to sell it and got an offer for $125,000 for the script. But he had just ONE REQUEST. He wanted to STAR in the movie. He wanted to be the MAIN ACTOR. Rocky himself. But the studio said NO.
They wanted a REAL STAR. They said he "Looked funny and talked funny". He left with his script. A few weeks later, the studio offered him $250,000 for the script. He refused. They even offered $350,000. He still refused. They wanted his movie.
But NOT him. He said NO. He had to be IN THAT MOVIE. After a while, the studio agreed, gave him $35,000 for the script and let him star in it! The rest is history!
The movie won Best Picture, Best Directing and Best Film Editing at the prestigious Oscar Awards. He was even nominated for BEST ACTOR! The Movie ROCKY was even inducted into the American National Film Registry as one of the greatest movies ever! And do You know the first thing he bought with the $35,000? THE DOG HE SOLD.
Dreams are realities of tomorrow. The tomorrow here isn't next year, its starts from now. Anything bigger than your dream can ruin your future.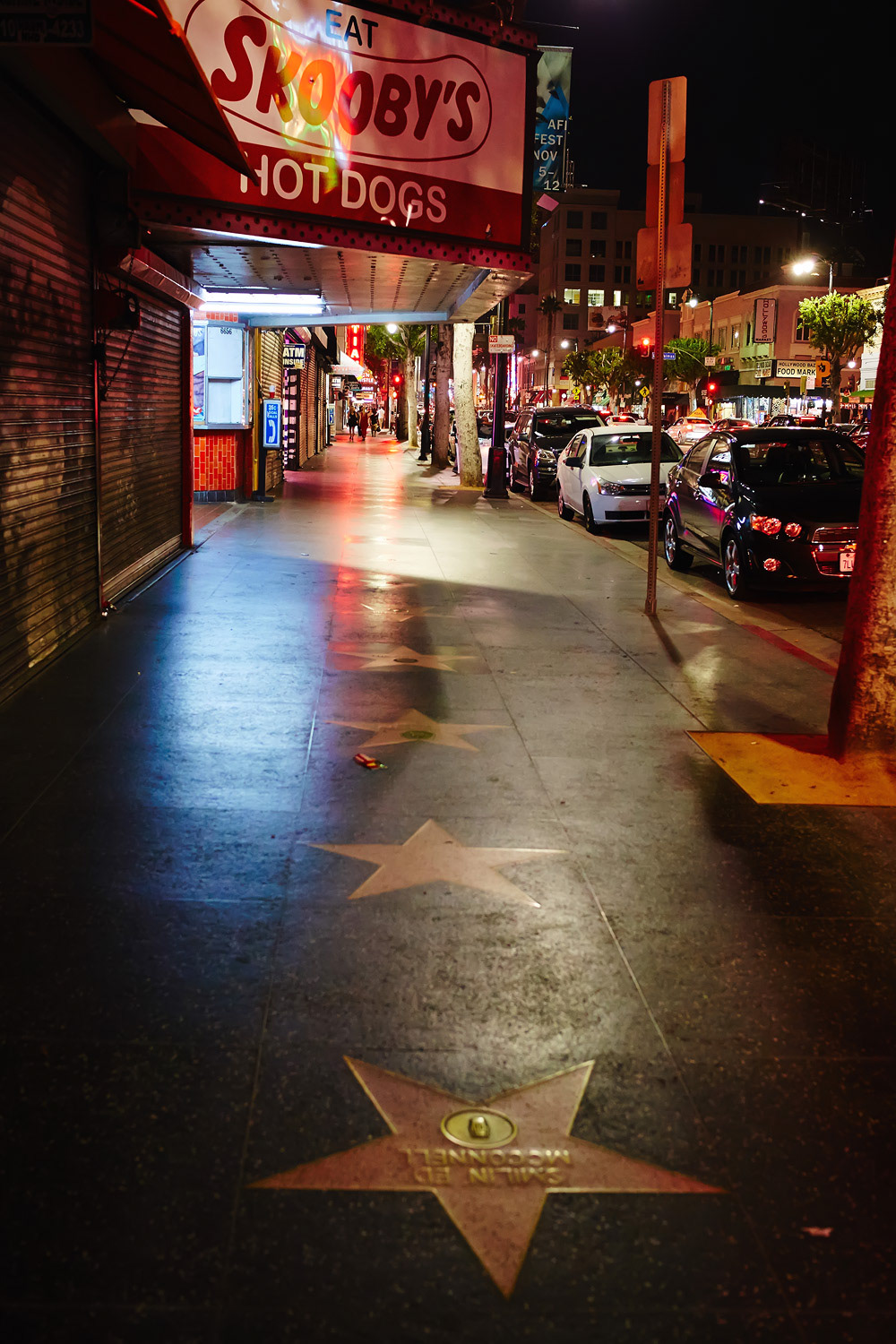 ★ Arnold Schwarzenegger ★
Despite his recent attempts to get back into action films, and his dubious return to his most successful franchise, Arnold Schwarzenegger is more a relic of the 80s and 90s, a hero of thirty-something men who grew up watching his movies as many times as they could when they were young. The man with the huge biceps was the biggest star in the world for quite some time, dominating box offices and one-liners, smoking his big cigars, and enjoying his time on the throne.
After his time as governor of California, Arnie has attempted to return to action stardom, but his attempts have fallen mostly flat. That doesn't ruin his heyday for me. Here are 13 cool things about Arnold Schwarzenegger you may not have known…
1. Schwarzenegger, who broke into stardom via bodybuilding competitions, was called "the most perfectly developed human in the history of the world" by the Guinness Book of World Records.
2. He was considered for the title role in the 1970s TV series The Incredible Hulk, but was reportedly deemed not tall enough. His former bodybuilding competitor, Lou Ferrigno, ultimately won the part.
3. Childhood friends stated that he often said his goals in life were to move to America, become an actor, and marry a Kennedy. He accomplished all three.
4. James Cameron originally wanted him for the role of Kyle Reese in The Terminator, but after reading the script, Arnold asked Cameron to let him play the part of the Machine. Cameron replied "No, no! Reese is the star! He's the big hero! And the Terminator hardly has any lines!" but Arnold asked him to "trust me."
5. Turned down the role of John McClane in Die Hard in 1988. The role went to Bruce Willis instead. Ironically, Willis has a line in the film where he says that the terrorists "have enough explosives to orbit Arnold Schwarzenegger."
6. He performed many of his own stunts in his earlier films, owing largely to the fact that it was hard to find stunt doubles who matched his size. Billy D. Lucas, Joel Kramer, and Peter Kent eventually became his personal stunt doubles and close friends.
7. He saved a man's life while on vacation in Hawaii in 2004 by swimming into the sea to rescue him from drowning.
8. He was seriously considered for the role of "Dr. Manhattan/Jon Osterman" in one of the many failed attempts at adapting Alan Moore's Watchmen into film. Ultimately, director Zack Snyder cast Billy Crudup for the 2009 adaptation.
9. As governor of California, he refused to take a salary, and took the private jet on his own money.
10. In recognition of his unparalleled achievements in bodybuilding and lifelong devotion to physical fitness, he was inducted into the National Fitness Hall of Fame in 2005. Being its inaugural class, that makes him a Charter Member.
11. After he had started lifting weights as a teenager, he noticed that his body was becoming disproportionate. His arms, shoulders and chest were developing nicely, but his calves and lower legs weren't coming along as he wanted. To motivate himself to work harder on his calves, he cut off all of his pants (trousers) at the knee. Walking around like that, people would look at (and maybe even laugh at) the big man with 'chicken' legs. It worked.
12. The soccer stadium in his hometown of Graz, Austria is named after him.
13. Ranked #20 in Empire magazine's "The Top 100 Movie Stars of All Time" list.
Mark Sinclair Vincent, aka Vin Diesel was born in New York City, USA, on July 18, 1967.
Mark lived in New York for his entire childhood, and he has always been fascinated by theatre and the big screen from an early age.
It is believed that the 'Vin' from 'Vin Diesel' is an abbreviation of his last name 'Vincent', while 'Diesel' is a nickname given to him by his friends.
Raised by his mother and adoptive father, Vin never knew his real father, but he says that this never really bothered him in any way. Vin had to work very hard to achieve the level of fame that he currently enjoys, as he had his share of missed opportunities while coming up as a young and energetic actor. Still, here are a few interesting things you probably didn't know about Vin Diesel:
1. When he was just seven years old, Vin and his friends broke into a theatre trying to vandalize it. In the process, they met a woman who offered them a script and around 20 dollars each, with the condition that they attend the theatre every day after school.
Vin apparently developed a pretty strong attraction for acting, and has been doing it ever since. It's crazy when you think about it, that is because of a good willing stranger that we are able to enjoy Vin's acting nowadays.
2. While he was coming up as a young actor, Vin did his share of odd jobs in order to make a living. At one point, Vin worked as a bouncer for some of the hippest clubs in New York, the type of working experience that he is thankful to this day for.
He says that when you work as a bouncer, you learn how to keep your mouth shut and pay attention, which for the most part is a good life advice for pretty much anybody.
3. We already discussed about Vin and his odd jobs, well this is one of them. You see, Vin knew that he wasn't going to get picked up for a serious role if he kept hoping for auditions to ho his way, so he decided to take matters into his own hands.
While he was in Los Angeles, he worked as a telemarketer in order to save enough money for his first feature. His idea paid off in the end, as he raised around $50,000 for his first movie 'Strays'(1997).
4. Vin never made a secret of his love for 'Dungeons & Dragons', and he enjoys playing it at every chance he gets. He has been playing D&D for more than 20 years now, which means that he started around the age of 12. Supposedly, Vin had a fake D&D tattoo on his stomach while filming 'xXx'.
Furthermore, Vin even wrote a foreword for the book '30 Years of Adventure: A Celebration of Dungeons & Dragons'.
5. This happened in 2003 when he was nominated for the 'Razzie Award' nominating ballots.
He received the nomination for his roles in xXx (2002) and Knockaraund Guys (2001), as well as for his role in A Man Apart (2003). He didn't 'win' however, as apparently there were far worse actors than him at the time, which is an understatement.
6. Vin Diesel admires Steven so much, that he once wrote a three page letter to the man, telling him how much he looks up to him. Diesel says that 'Schindler's List' is one of the best movies ever made, or at least one of the best he ever saw.
7. Vin Diesel has always been a bit of a geek, a fact that he acknowledges himself actually. In 2002, he started 'Tigon Studios', a video game company that worked on games such as 'The Chronicles of Riddick: Escape from Butcher Bay". Nowadays, the company focuses on next gen games, even though they retain the right to involve themselves in any Vin Diesel games.
8. It appears that Ben Affleck wasn't the first person they offered the Daredevil role. The role was initially offered to Vin Diesel as the producer thought that it fit him perfectly. Nobody actually knows why Vin Diesel turned down the role, although it might have something to do with the amount of work he was doing at the time.
9. There is a break dancing instructional video out there, with Vin Diesel as the main protagonist. Vin says that he filmed it during his teens, and he doesn't remember much of it anyway. We already talked about the younger Vin Diesel and the odd jobs he had to do in order to get by, well this is one of them.
10. Vin's character in this movie is quite a corpulent guy, so he had to gain quite a few pounds before the filming started. Although make-up played an important role in his character's credibility, Vin went through a lot of trouble to help every way he could. In the end, Vin received a lot of praise for his performance as 'Fat Jackie', forcing many of his critics to admit that Vin Diesel is more than muscles and attitude.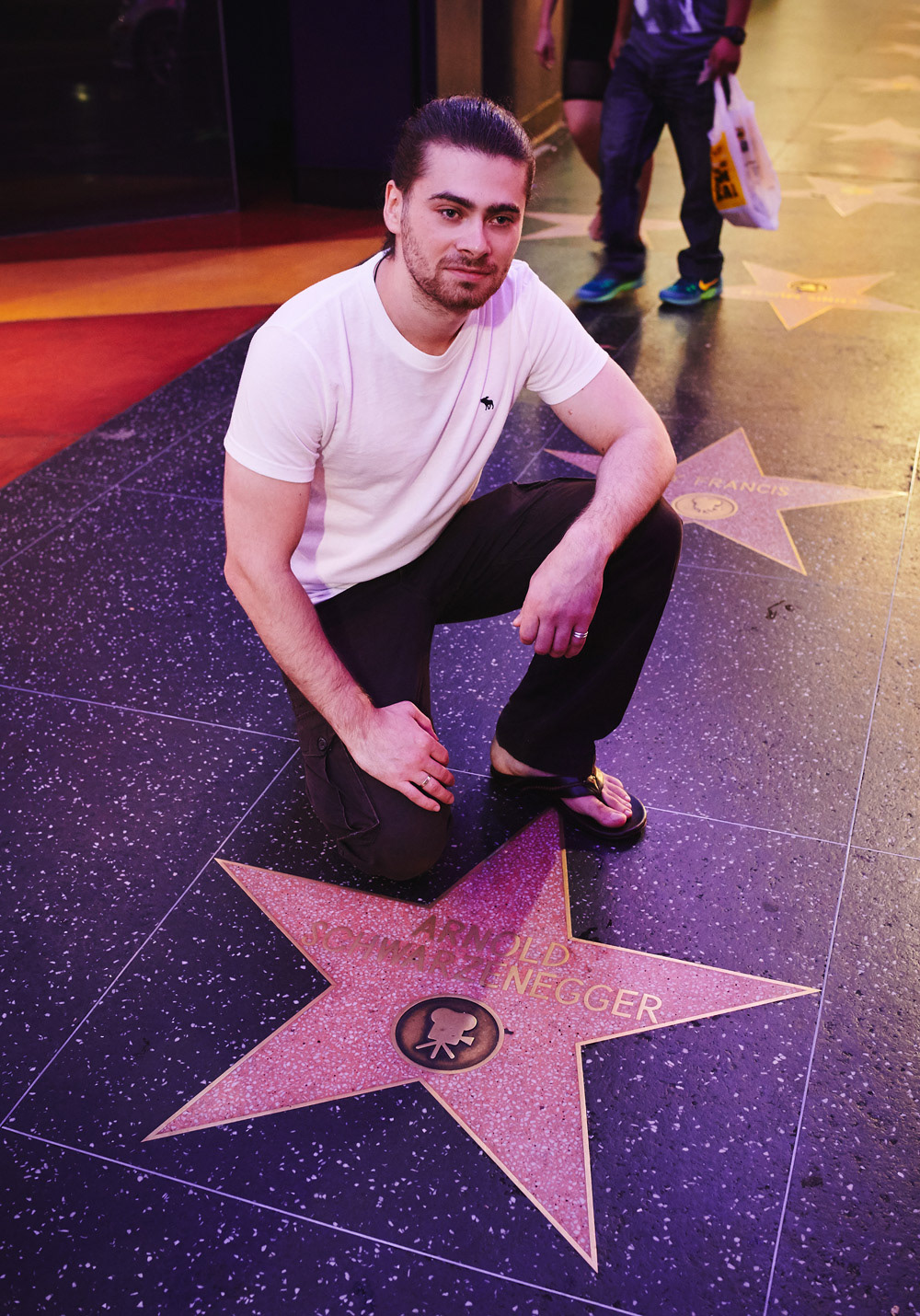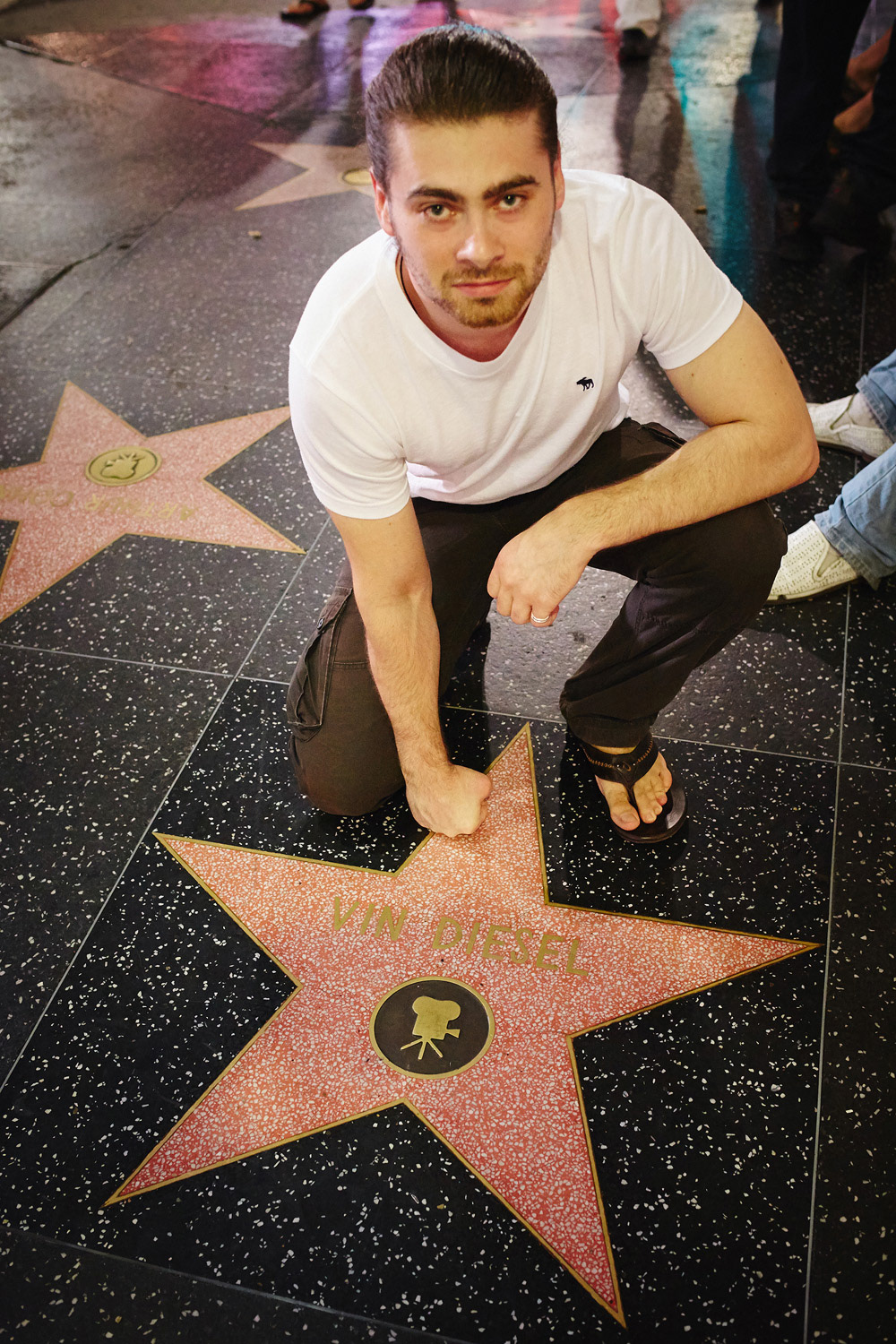 1. Samuel L Jackson was a relatively late bloomer when it came to Hollywood. Despite appearing in minor roles since the 1970s, it was Tarantino's second feature film Pulp Fiction that catapulted Jackson into super-stardom. Aged 46 at the time, Jackson's performance as burger-loving Jules earned him an Oscar nomination and finally got him into the spotlight, making it safe to say that the now-superstar hasn't struggled for work since.
2. As well as struggling to get his career kickstarted, Jackson has also confessed to battling drug problems. Up until 1990 the actor suffered with cocaine addiction before his wife had enough and checked him into rehab. Ironically his stint in rehab was completed just two weeks before he portrayed a drug addict in Jungle Fever. However, Jackson revealed that he never looked back on beating the addiction, saying: "The clarity and professional satisfaction that comes with sobriety – you couldn't beat it."
3. Although insisting that he is far from cool in real life, Jackson showed characteristics of his on-screen tough guy persona when he was suspended from college in 1969. Following the assassination of Martin Luthor King, Jackson and a group of friends took several members of their school's trustees hostage during a protest at their failure to have black trustees or a black studies program. It remains uncertain if this 'hostage' situation was as dramatic as it looks in the movies, but it's pretty hardcore stuff nonetheless!
4. Following his pre-fame involvement with the Civil Rights Movement, Jackson is now involved with the campaign to fight Alzheimer's disease. In his efforts to raise money and awareness for the cause, he recited a scene from Breaking Bad, as well as various fan-written monologues, on fundraising website Prizeo.
5. When he isn't filming action-packed movies or raising money for charity, the star has revealed that he loves to visit England. Describing what he feels is a "kinship" to our obviously wonderful country, Jackson revealed that he loves to go to the places he used to hang out at in his youth via the Tube and buses. We love that he loves us, but stick him on an over-crowded, rush hour Tube with somebody's morning breath in his face and we're sure this love of our public transport would soon falter!
6. Here's a scary thought: Samuel L Jackson almost wasn't an actor at all! He suffered with a bad stutter in his youth and as part of his speech therapy he was told to audition for a play. Jackson enjoyed it so much that he changed his majors to focus on acting and thank goodness for that! Who else can you imagine delivering his now-iconic movie quotes?
7. There is one character that Jackson was less than keen on though. After performing as Othello, the actor revealed that he really hates the character: "Here was a guy who had been all over the world, kicking ass, looting, plundering and probably raping the baddest babes on the planet. Then he falls in love with some teenager and loses his mind. I don't like that idea at all. I mean, how stupid was he?" Watch out Shakespeare!
8. Did you ever wonder why Mace Windu is the only character to have a purple lightsaber in the Star Wars films? It's because Jackson insisted. Speaking about the film he said: "George (Lucas) said, 'Well, lightsabers are either red or green'. And I said, 'Yeah, but I would like a purple one'."
9. That's not the only time the A-lister has got his own way on set. Rumor has it that he has added a clause to all his movie contracts that guarantees him easy access to a golf course, no matter where the movie is being filmed. Jackson is a huge golf fan, revealing: "I am as passionate about golf as I am about acting… I enjoy my golf, it does not matter whether I play great or badly."
10. A short but sweet final fact about our action hero: Samuel L Jackson is a vegetarian! Morrissey would be pleased.
1. Bruce Lee's family never called him "Bruce." They preferred to call him by his nickname "Sai Fon" or "Little Phoenix." It was a girl's name, deliberately chosen by his parents because they believed that evil spirits did not like boys in the family (their firstborn was a son who died in infancy). So, by giving Bruce a girl's name, they believed they could fool the demons into sparing his life!
Actually, "Bruce" was a name given by a nurse at the Jackson Street Hospital, San Francisco, where he was born (Bruce's father was traveling with an acting troupe at the time). The nurse thought that giving the baby an English name would help avoid any confusion with his American birth certificate (yes, Bruce was an American by birth – he never had any other citizenship).
2. Bruce wasn't pure Chinese – he was actually part German (his grandfather from his mother's side was half German).
3. Well, actually he lost a fight only once in his life: when he was 13 years old. This loss actually prompted Bruce to learn martial arts from a Wing Chun master named Yip Man. After other students learned that Bruce wasn't pure Chinese, they refused to let him train in their class. Yip Man had to train him privately. (Image: Portland Kung Fu Club)
4. Academics didn't interest Bruce in the least. After primary school, Bruce entered La Salle College, an English-speaking boys' secondary school in Kowloon, Hong Kong, where he often got into trouble. Bruce was expelled from La Salle for disruptive behavior.
Even after his parents moved him to a different school, Bruce kept on getting into street fights.
5. Actually, Bruce studied dancing as hard as he studied martial arts: he was an excellent dancer who, at 18 years of age, won the 1958 Hong Kong Cha Cha Championship! Bruce was also a great boxer: he won the 1958 Boxing Championship – by knockout, of course.
6. Bruce wasn't just all muscle and no brain. He attended the University of Washington, where he majored in philosophy with focus on the philosophical principles of martial art techniques. As you might imagine, Bruce supported himself in college by teaching martial arts. Later, Bruce dropped out of college to open his martial arts school.
7. After he got famous, a lot of people thought they could beat Bruce – they would walk up to him, tap their foot on the ground (symbolizing a challenge) and then proceed to attack him! Well… maybe not that literal, but Bruce's popularity certainly attracted a lot nutcase trying to prove they're better than him.
One day, while filming Enter the Dragon, an extra taunted Bruce Lee and challenged him to fight. The whole thing went on like this:
"This kid was good. He was no punk. He was strong and fast, and he was really trying to punch Bruce's brains in. But Bruce just methodically took him apart."
"I mean Bruce kept moving so well, this kid couldn't touch him…Then all of a sudden, Bruce got him and rammed his ass into the wall and swept him, he proceeded to drop his knee into his opponent's chest, locked his arm out straight, and nailed him in the face repeatedly."
Typical of Bruce Lee, after the fight he didn't fire the extra – he actually gave his challenger lesson on how to improve!
8. In 1964, Bruce was invited to a karate championship in Long Beach, California. There he performed his famous "One Inch Punch," where he would deliver a devastating blow from only an inch away, sending his opponent flying back!
Most martial art films are sped up to make fighting scenes appear fast, but not Bruce Lee's. His moves were too fast to be captured on the regular 24 frames per second film – so they had to film him at 32 fps, and run the film slower so you can see his moves.
9. Bruce Lee was filming Game of Death when he died unexpectedly. So what did the studio do? Well, they rewrote the script so Bruce's character faked his own death to escape the mafia. Then they took footage from Bruce's actual funeral – including close-ups shots of the open casket showing his embalmed face – and work that into the movie!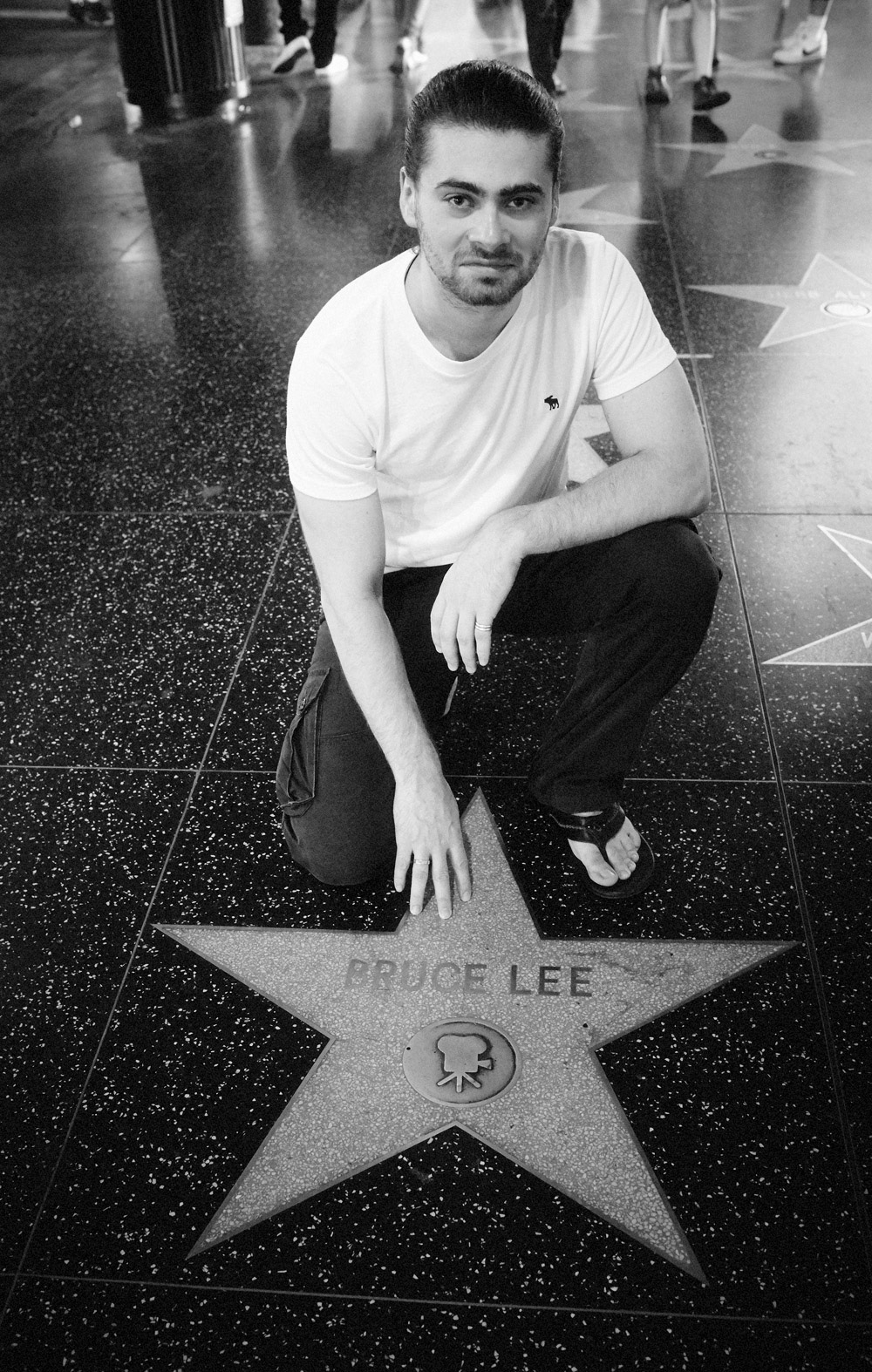 Jackie Chan was born on April 7, 1954, to Charles and Lee-Lee Chan. His parents were the refugee of the Chinese Civil War. He was nicknamed Pao-pao. Since his childhood, Jackie was a brilliant student. He has been one of the most fantastic Hong Kong actors, directors, and movie producers. He has been known for his acrobatic fighting style in the movies, and has given the fans a lot of hit movies. According to a source, Jackie spent 50 years in the film industry, and did over 100 movies. Check out these top 10 little known facts about Jackie Chan.
1. Jackie Chan is one of the finest ace stunt performers. He has been known for his courage and brave stunts. In 1986, Jackie was almost killed while performing one of the dangerous stunts. He has to fly down to Yugoslavia and was to go jump from a wall to a tree. During this stunt, he lost his balance, and fell to the ground. He was immediately brought to the hospital.
2. It is true that the movies are big deal. Many stars experiment in a lot of ways just to give a single perfect scene. But our beloved Jackie Chan has beaten their records. During the shooting of the movie, 'Dragon Lord' (1982), he had over 2700 takes for a single ten-minute scene. This is what we can call 'Perfectionist'. He was awarded by the Guinness World Record for this particular scene.
3. Did you know he is a singer as well? If no, then let e tell you that Jackie Chan is an awesome singer, who has released about 20 music albums to his name. He was fond of singing, but didn't make it his career. He sung the theme songs of his film 'Young Master'.
4. Almost every part of his body has injuries. How? Obviously because he has been doing so many dangerous stunts. For many times, his legs were broken, face was injured, and body tissues were severely damaged—but Jackie never lost the hope and kept on giving awesome performance.
5. Jackie's father, Charles was a spy worker of China. He had arrested a stage performer and opium seller named Lee-Lee, whom he later married. His parents, unfortunately, left him in his childhood. The two settled in Hong Kong, and Jackie was left in a boarding school. His parents didn't care much whether he lives or dies, because they loved him very little.
6. Jackie isn't a big fan of Hollywood movies. Even after spending years in the film industry, he says that he didn't develop much understanding how Hollywood movies are made and what kind of strategies are best for making a particular movie blockbuster. He also said that he disliked Rush Hour and would not like to do any of its sequels ever in life.
7. During the shooting of 'Wheels on Meals' in 1984, Jackie became angry for being hurt by Benny 'The Jet' Urquidez (a kickboxing world champion). A fight scene was being filmed on the two, when Jackie lost his stamina and started real fight on the set. Soon the crew members got involved and separated Jackie from Urquidez. Later on, both of these stars appeared in a fight scene of the movie, 'Dragons Forever' (1988).
8. It happened in one of his best stunt performances. Jackie was feeling scared to perform that, but managed to pull off in 'Who Am I?' If you've watched this movie, you know that he had to slide down the 21 storied building in Rotterdam. This completely froze his blood, because the outside temperature was too low. He couldn't even walk for many weeks, and was on complete bed rest, afterwards.
9. During his career, Jackie established his own stuntmen association named 'Sing Kar Pan'. It was purposed to give training to the newcomers about how to perform different stunts and what are the martial art techniques. Jackie successfully headed this association for many years.
10. We can credit this man for holding many records worldwide. What made him get a Guinness World Record was his awesome multi-talents. He is one of the finest directors, writers, producers, art directors, actors, stuntmen, gaffers, singers, vocalists, and music composers. Is that enough to say that Jackie has absolutely no alternate in the world of entertainment?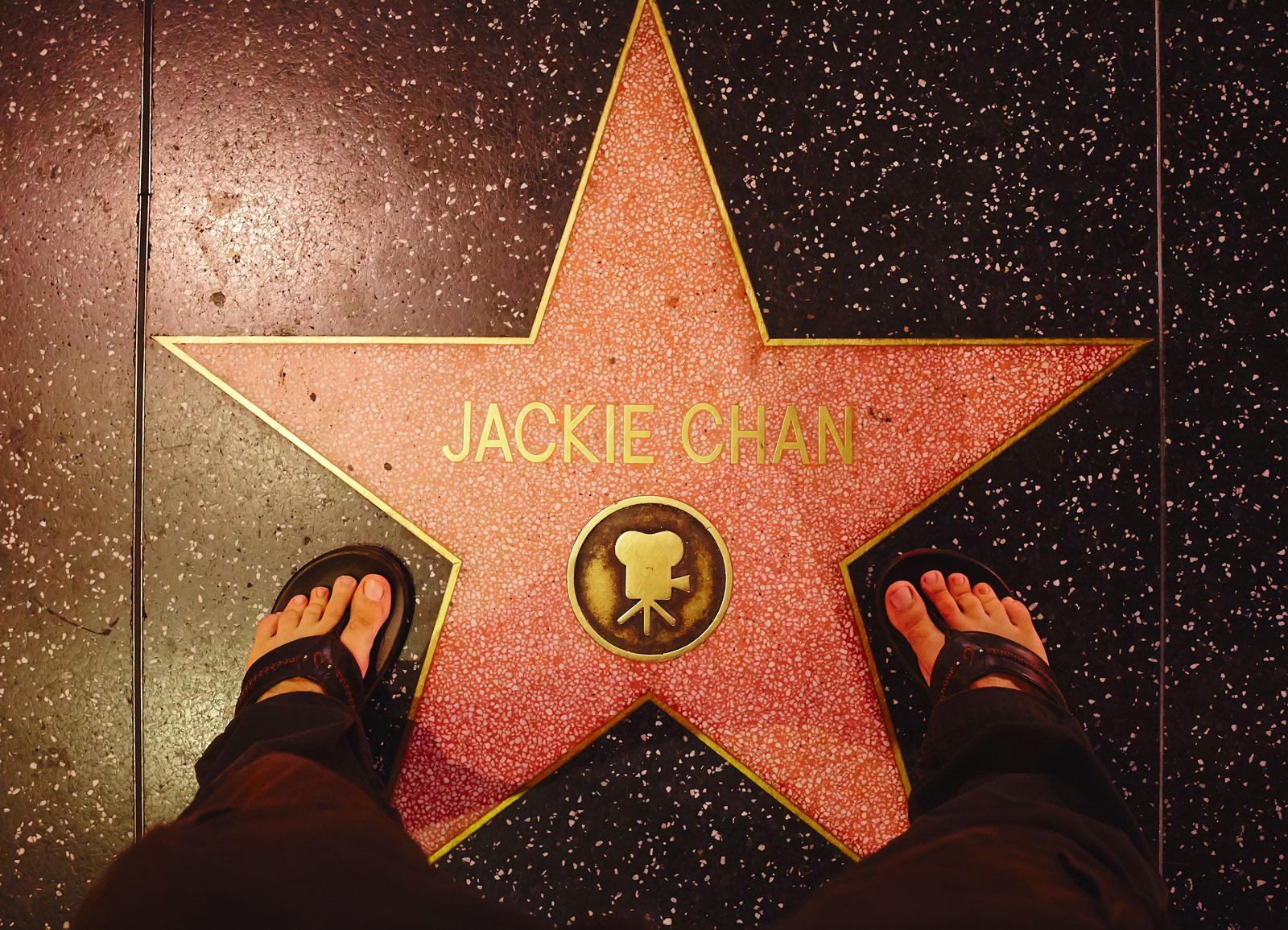 There may be no entertainment industry figure more influential than Disney's eponymous founder. In his 65 years, Walt Disney succeeded in moving animation from a black-and-white novelty to a highly respected genre that would produce Oscar-worrthy feature films. More than a few of his creations — including Mickey Mouse, Donald Duck, and Goofy — are instantly recognizable global icons. And the small animation house he founded on October 16, 1923 is now valued at more than $42 billion.
Yet, despite his fame, Disney remains a relatively unknown figure. His story is overshadowed by his achievements, and, sometimes, by outright myth. In honor of The Walt Disney Company's 90th anniversary, here are ten things you probably didn't know about the man behind Mickey Mouse.
1. During the first World War, a 16-year-old Walt Disney left school and attempted to enlist in the army. He was rejected for being underage, but managed to find employment with the Red Cross as an ambulance driver. The organization sent Disney to France for a year, but by the time he arrived, the armistice agreement had already been signed.
2. Mickey Mouse is virtually synonymous with Disney's company, but if the animator's wife hadn't intervened, he might have been represented by Mortimer Mouse instead. In the mouse's first few shorts, he was referred to as Mortimer Mouse, but Lillian Disney managed to convince her husband that Mickey would be a more marketable name. Mortimer later became Mickey's Brooklyn-accented rival (below), vying for Minnie Mouse's affection.
3. While mostly known for his skills as an animator, director and producer (not to mention his business acumen), Disney also tried his hand at voice acting. From Mickey's inception in 1928, all the way to 1947, the mouse's voice was provided by Disney before being turned over to English voice actor Jimmy MacDonald. Disney loved the character so much that he returned to the studio in 1955 to voice Mickey Mouse shorts for his company's television show The Mickey Mouse Club.
4. When word got out that Disney planned to turn Snow White into a feature film, industry insiders were convinced his efforts would fail, calling the project "Disney's Folly." His detractors were almost correct. Disney did in fact run out of funding during Snow White's production, and was forced to show loan officers a rough cut of the movie before he could secure additional financing. Luckily for both Disney and his creditors, Snow White turned out to be a smashing success. The film earned over $8 million during it's initial release — about $130 million today.
5. Not only did a young Disney attempt to help America on the field of battle, but he also helped several federal agencies throughout his career with animation. He created training films for the US military, propaganda films urging Americans to pay their taxes, and multiple anti-Hitler shorts meant to boost US morale at home. Disney also helped the State Department improve relations with South America by making a 1941 goodwill tour (featuring a specially made movie entitled Saludos Amigos), and later aided NASA by developing documentaries about the space program.
6. After the second World War, many in the U.S. were gripped by an overwhelming fear of communist infiltration. Disney believed in the Red Menace, and in concert with other leading industry executives, formed the anti-communist Motion Picture Alliance for the Preservation of American Ideals (MPA). In addition to serving as the MPA's vice president, he testified in front of the House Un-American Activities Committee against several labor organizers, who he accused of motivating his animators to strike. Disney also accused the Screen Actors Guild of being a communist front, and claimed their 1941 strike was a socialist plot.
7. After opening Disney Land in 1955, Walt set his sights on a ski resort in Mineral King Valley, near California's Sequoia National Park. The plan was to build a vacation spot featuring six ski areas, all centered around a Swiss-style base village, with a total daily capacity of 20,000 skiers. The project came relatively close to development, with Disney winning approval from the Forest Service and forging a roads deal with the Governor of California. However, after Disney's death in 1966, the company felt it could only handle one major project at a time. Wisely, they chose to complete Disney World instead.
8. Between 1932 and 1969, Disney won 22 Academy Awards and was nominated 59 times. Included amongst this trove of Oscars are three awards created specifically for him — one for creating Mickey Mouse, another recognizing his contribution of music in the field of animation, and a specially made prize honoring Snow White and the Seven Dwarves that featured a traditional statuette, and seven miniature versions alongside of it.
9. That is to say, no one knows what they were supposed to mean. Shortly before succumbing to lung cancer, Disney scribbled the words "Kurt Russell" on a piece of paper. According to Russell, best known for his performance in The Thing and Escape from New York, the reasons are mystery to him as well. At the time of Disney's death, Russell was a child actor working for the studio and had yet to achieve widespread fame.
10. One fact that everyone thinks they know about Walt Disney is that his body has been preserved through cryogenics. However, as Snopes long ago revealed, there is no truth to this urban legend. All available documentation states that Disney was cremated after death —and the first-ever cryogenic freezings took place a month after Disney passed on.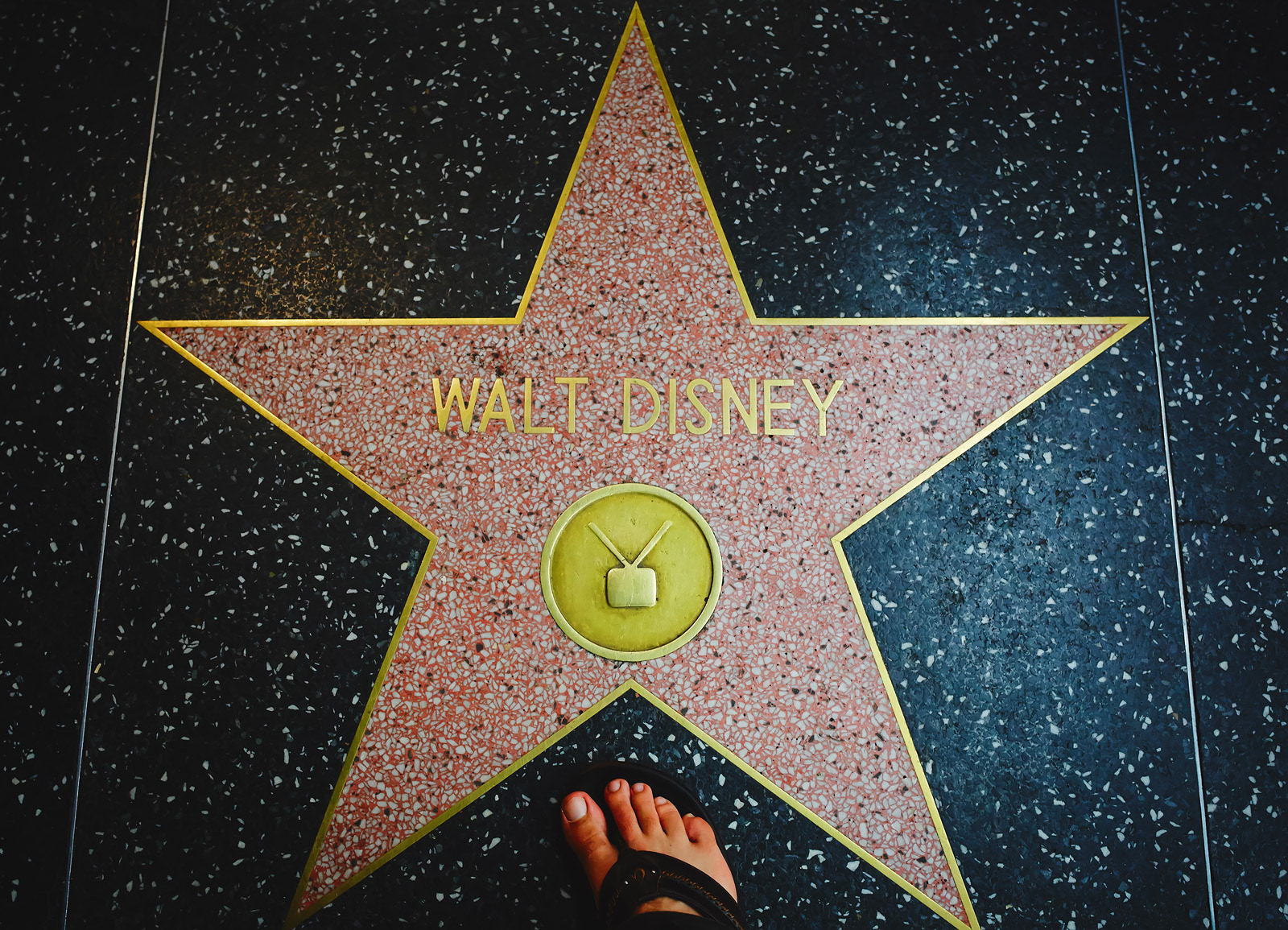 OMG! How amazing he was at "Blade Runner" (1982)… One of my favorite movies EVER!
1. Harrison Ford struggled as an actor initially and instead became a self-taught carpenter to support his family. While working as a carpenter, he became a stagehand for the popular band 'The Doors'. He used his carpentry skills in films like 'Witness' (1985) and 'The Mosquito Coast' (1986). Ford enjoys carpentry so much that he pursues the craft as a hobby now.
2. Ford was billed as 'Harrison J. Ford' in his first credited film role in 'A Time for Killing' (1967), but the 'J' did not stand for anything since he has no middle name. It was added to avoid confusion with another actor named Harrison Ford. However, Ford dropped the 'J' after 1970.
3. 'Star Wars' (1977) was not the first film Harrison Ford and George Lucas had collaborated for. Casting director and producer Fred Roos championed for Ford and got him an audition with Lucas for the role of Bob Falfa, which Ford went on to play in 'American Graffiti' (1973), his first film with Lucas, leading to a successful professional association over the years.
4. Ford almost didn't play Indiana Jones. Tom Selleck was first offered the role in 'Raiders of the Lost Ark' (1981), but he could not commit due to date issues and Ford was roped in.
5. Harrison Ford has a scar on his chin from a car accident at the age of 20. He has addressed the mark in films like 'Indiana Jones and the Last Crusade' (1989) and 'Working Girl (1988)' by giving an explanation as to where his character received it.
6. Ford was offered the title role in 'Schindler's List' (1993) but he declined. He also turned down 'Jurassic Park' (1993) which later went to Sam Neill. 'Alien' (1979), 'Terms of Endearment' (1983) and 'Syriana' (2005) are among the popular films he declined.
7. Harrison Ford was active in the Boy Scouts of America, and achieved its second-highest rank – Life Scout. This is why director Steven Spielberg decided to depict the young Indiana Jones as a Life Scout in 'Indiana Jones and the Last Crusade' (1989).
8. Ford is an active environmentalist. In 1993, he was honoured by an arachnologist who named a new species of spider Calponia harrisonfordi. In 2002, entomologist Dr Edward O Wilson named a new ant species Pheidole harrisonfordi. Ford had the honour of naming a new breed of butterfly, which he called 'Georgia' after his daughter.
9. Harrison Ford is a licensed private pilot of fixed-wing aircraft and helicopters. He has provided emergency helicopter services on several occasions. Ford has flown his personal Bell 407 helicopter in at least two known mountain rescue missions.
10. Harrison Ford topped Forbes' list of Hollywood's Highest Paid Actors in 2009.
1. In the year of 1997 a poll was conducted by the famous UK magazine called Empire. The poll was done to make a list of the "greatest movies stars of all time". In the results of the list it was found that the fans voted and thus ranked Travolta at the 21st position.
2. "Saturday Night Fever" was a landmark movie in the career of John Travolta as it clearly put him on the map, so to speak. However a lesser known fact remains that Travolta went through a lot of hard work for the all-important dance scenes of this movie. He had to undergo a training of 9 long months
3. There is not a single member of the film fraternity who would deny his or her craving for the golden globe award. John Travolta got this auspicious award for the movie "Get Shorty". The award was presented to him to applaud his excellent performance in this movie. Thus he was given the "Golden Globe Award" for the best actor.
4. Some might construe the act as nothing but a sign of bad luck when Travolta refused to work in the movies like "American Gigolo", "Chicago" and "An Officer and a Gentleman". It is well known that these movies later on proved to be great hits but the roles that were offered to John Travolta were played by Richard Gere, one of his many contemporaries.
5. John Travolta, the proud owner of five aircrafts, also happens to be a trained pilot and thus is certified to fly private planes.
6. The movies like "Grease" and "Saturday Night Fever" did the job of a catapult as after series of flops and what was thought of as a wasted career, these movies clearly established his potentials as an actor and consolidated his position in the movies industry.
7. It is known to anybody and everybody who has not been living under a rock that the movie "Splash" was a great success. However the fact that John Travolta was offered the role of Tom Hanks in this movie might be a lesser known fact.
8. The popular Oprah Winfrey is one of the biggest fans of John Travolta and also a dear friend.
9. It is well known that John Travolta does like to work out and be in good shape. However he had to make an exception to this rule of working out for the movie "Primary Colors" when for the character to be more realistic and in agreement with the script he had to put on 40 pounds. He made this exception of his own volition thereby clearly showing his devotion to his work.
10. Apart from being an actor, a dancer, a singer John Travolta also happens to be an author and a writer. His books have been published and loved by all. The interesting fact about John Travolta's writing is that one of his most popular books is "Propeller One-Way Night Coach" is about Travolta's son who died of seizure.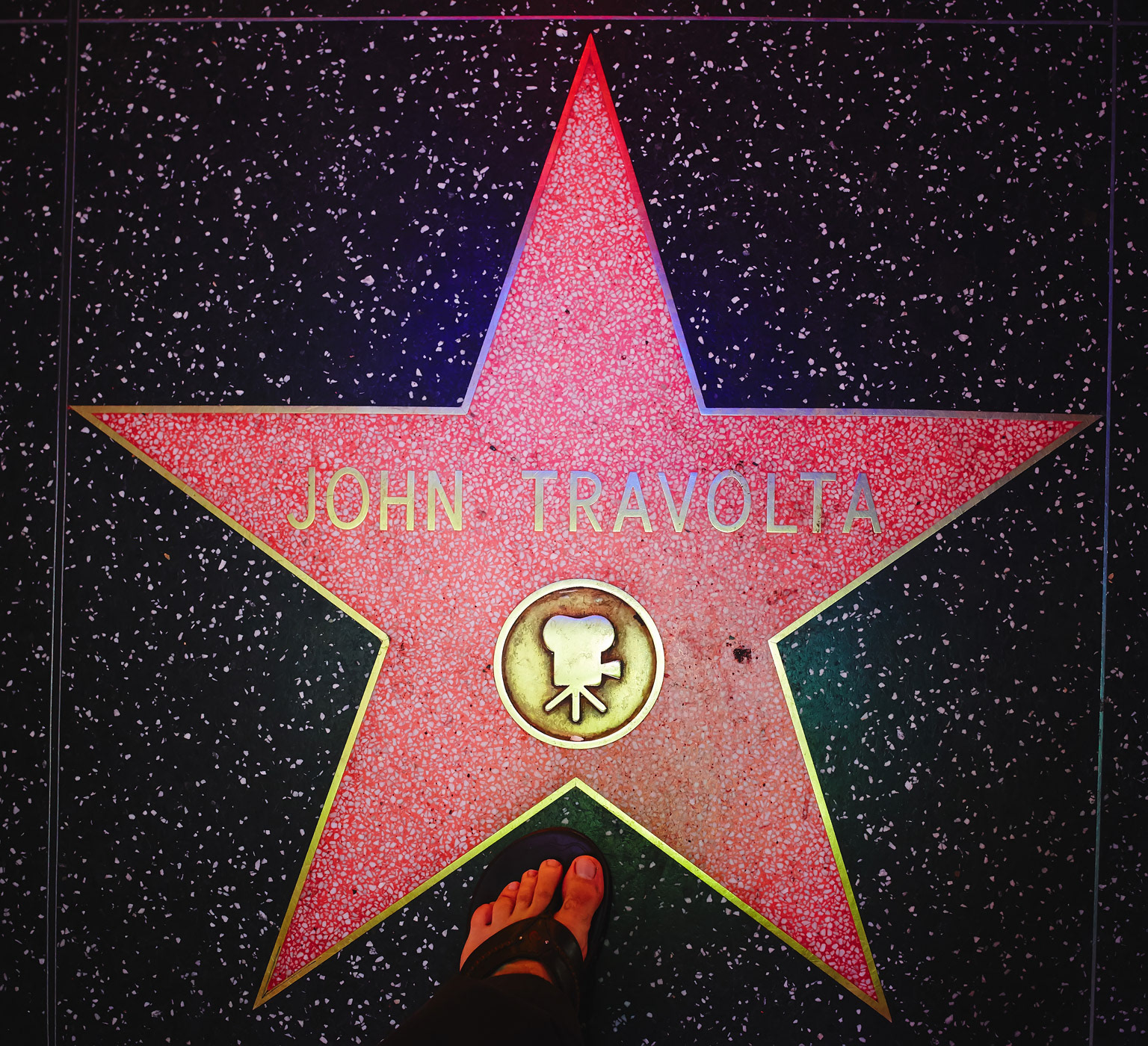 After starting his career in the comedy-soap Moonlighting, and starring in comedies like Blind Date, Bruce Willis was launched into the stratosphere of superstardom when John McClane was born. Die Hard made Willis the megastar he is today. Willis' career has been up and down, but his hits have been gigantic enough to keep him a big name.
1. Having worked as a bartender and waiter before his acting career and understanding the struggle, Willis has always been on the "best celebrity tippers" list.
2. As a young man, his personality was very much like that of the character that he portrayed on Moonlighting. He was always getting into trouble because of this and was physically removed from parties by the hosts for being obnoxious.
3. To that fact, Willis was arrested in 1987 after reportedly disturbing the peace and assaulting a police officer who was called to quiet a raucous party at his home. The charges were dropped after Willis agreed to apologize to his neighbors.
4. Along with Arnold Schwarzenegger and Charlton Heston, Willis was one of very few Hollywood celebrities to publicly support the Iraq war. While visiting the troops in 2003, he offered $1 million of his own money for the man who would capture Saddam Hussein. When Hussein was captured, it turned out that military rules prevent troops from collecting such a reward.
5. Willis' wedding to Demi Moore was quite an interesting one: Little Richard presided over the ceremony, and Ally Sheedy was a bridesmaid. The wedding took place at The Golden Nugget Casino and Hotel in Las Vegas.
6. He was in consideration for the part of Lester Burnham in American Beauty but Kevin Spacey was cast instead. Spacey would win an Oscar for Best Actor. Willis has never been nominated.
7. Willis flirted with a singing career, even releasing a semi-hit single and an album, The Return of Bruno, that sold a million copies in the U.K.
8. He became the first actor to guest star on Friends and win an Emmy Award in the Outstanding Guest Actor category for their performance.
9. He was the only celebrity that attended Julia Roberts' wedding to Daniel Moder. Their friendship is referred to in Ocean's Twelve, when he mistakes Tess Ocean for Julia Roberts and asks her about "Danny."
10. Willis recommended Michael Clarke Duncan to Frank Darabont to play the role of John Coffey in The Green Mile.
11. Turned down the role of Sam Wheat in Ghost because he didn't think the plot would work and that playing a ghost would be detrimental to his career. Ironically, he played a ghost in The Sixth Sense, which was a critical success and is widely regarded as one of his best performances.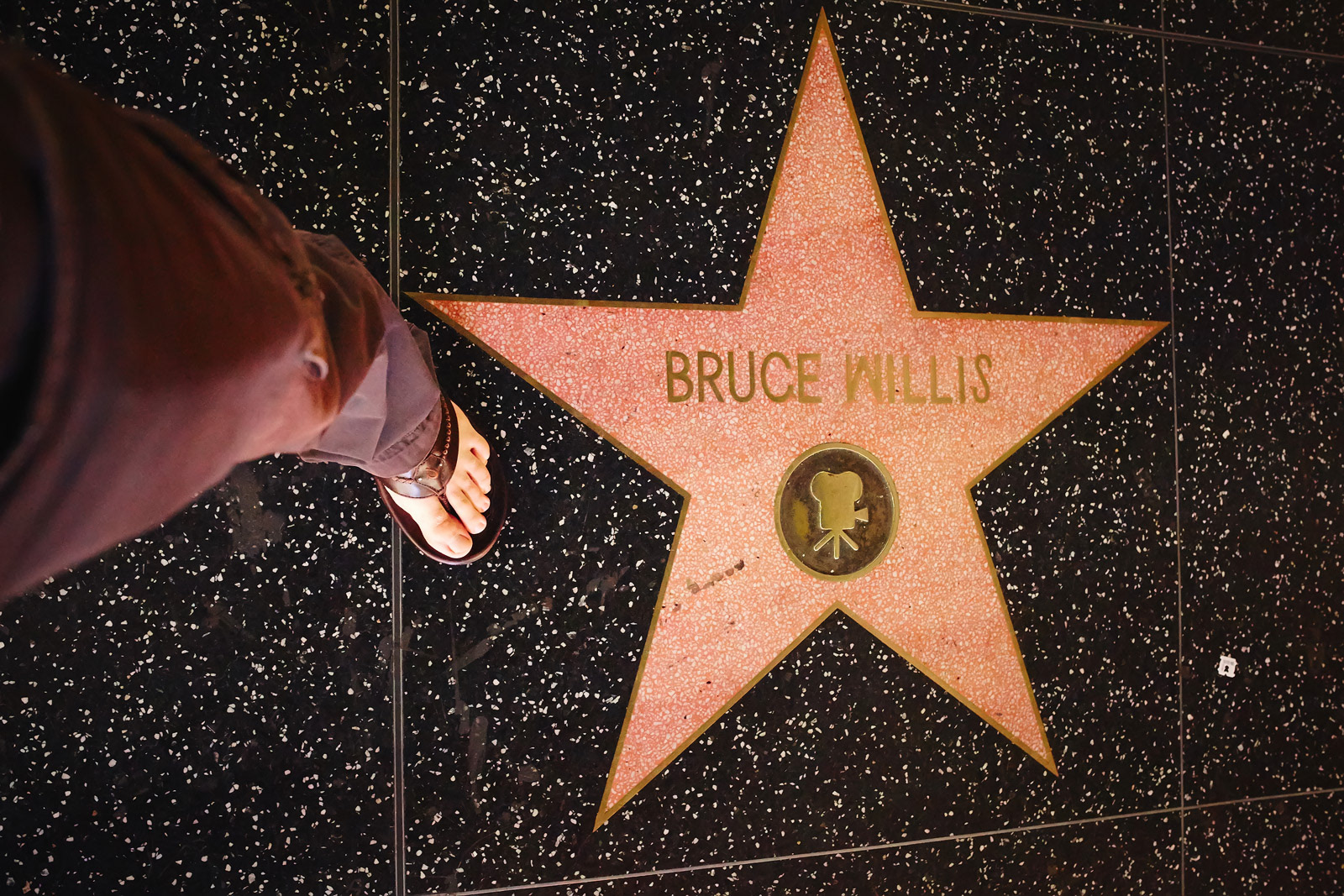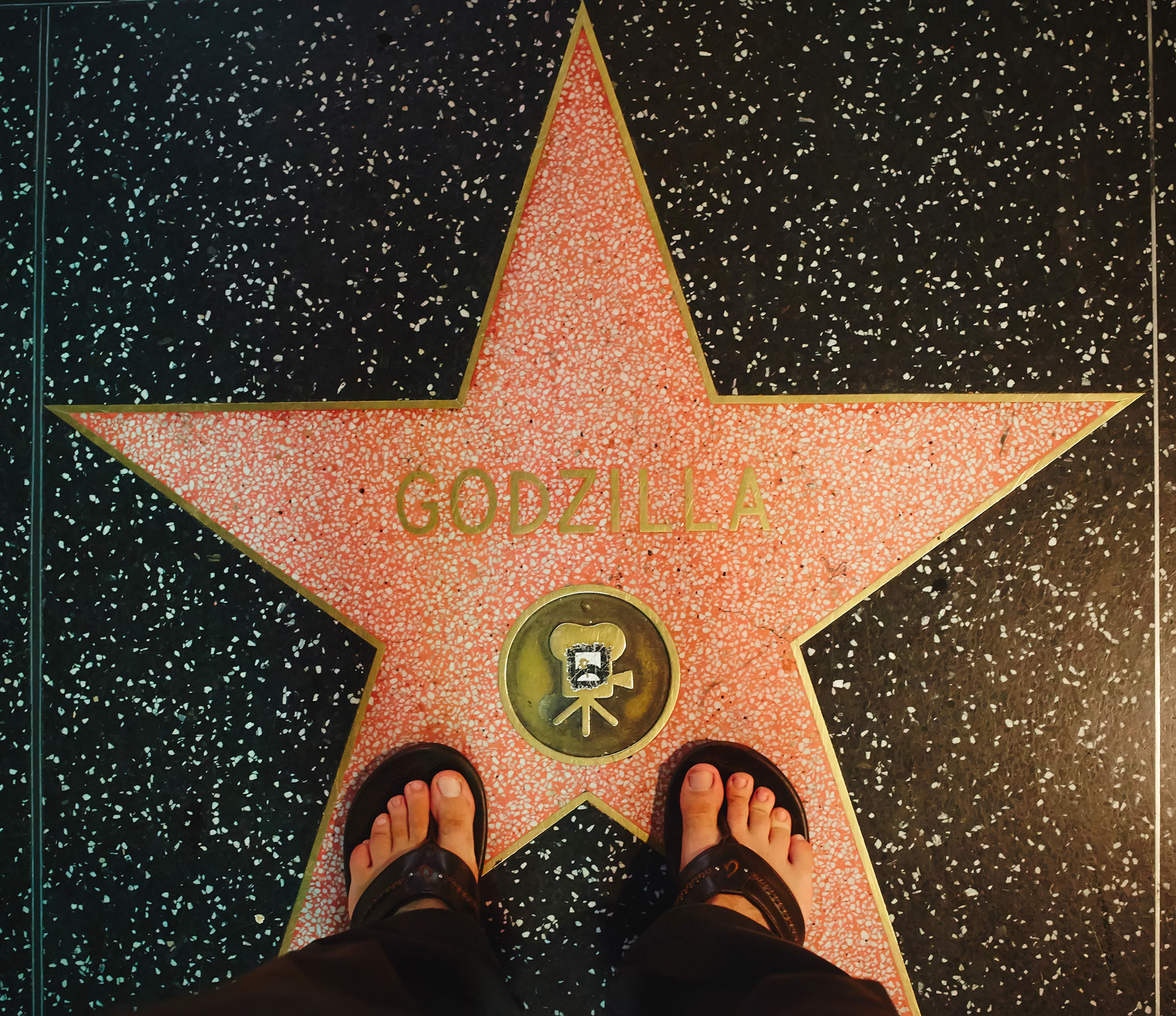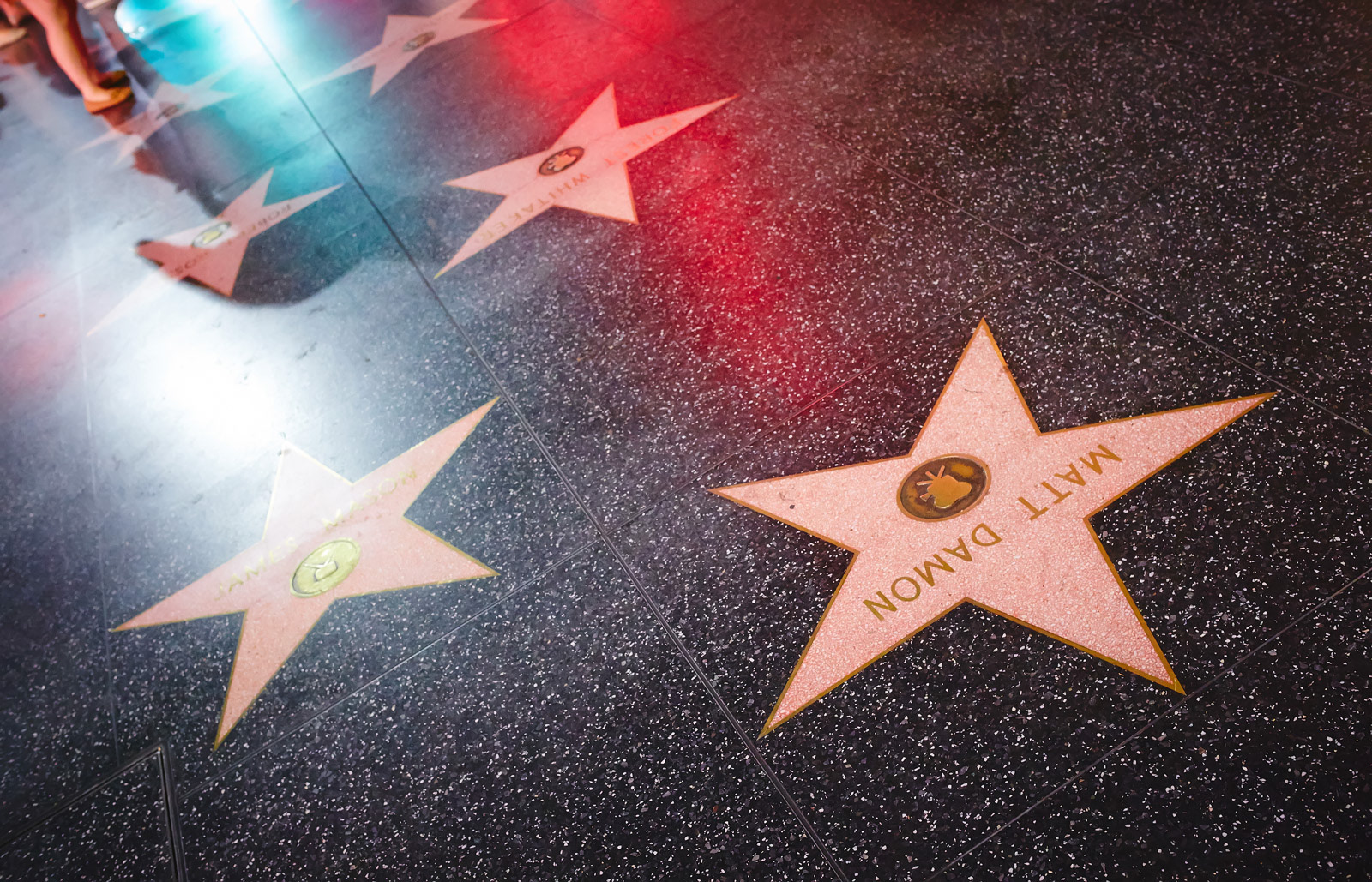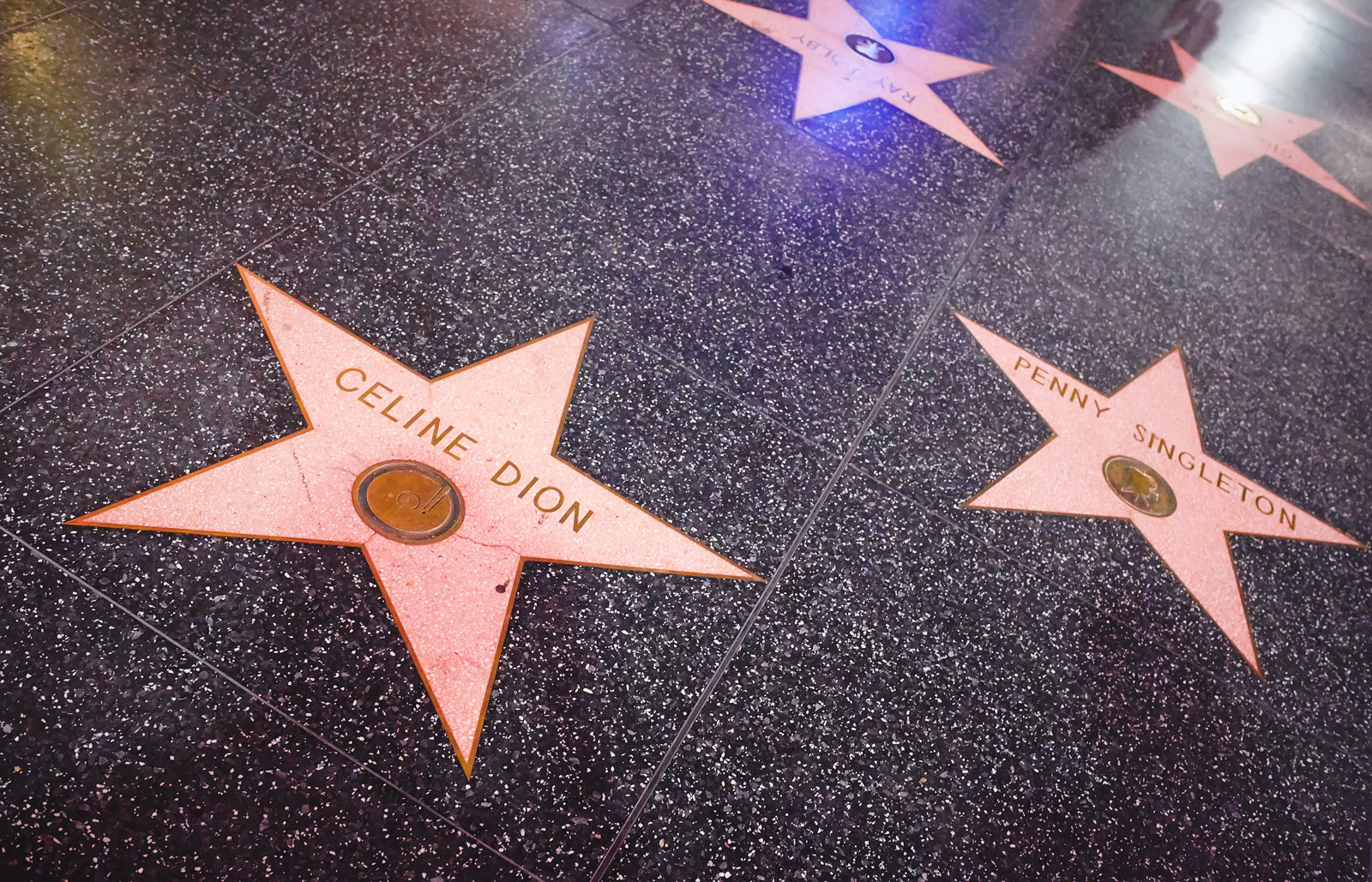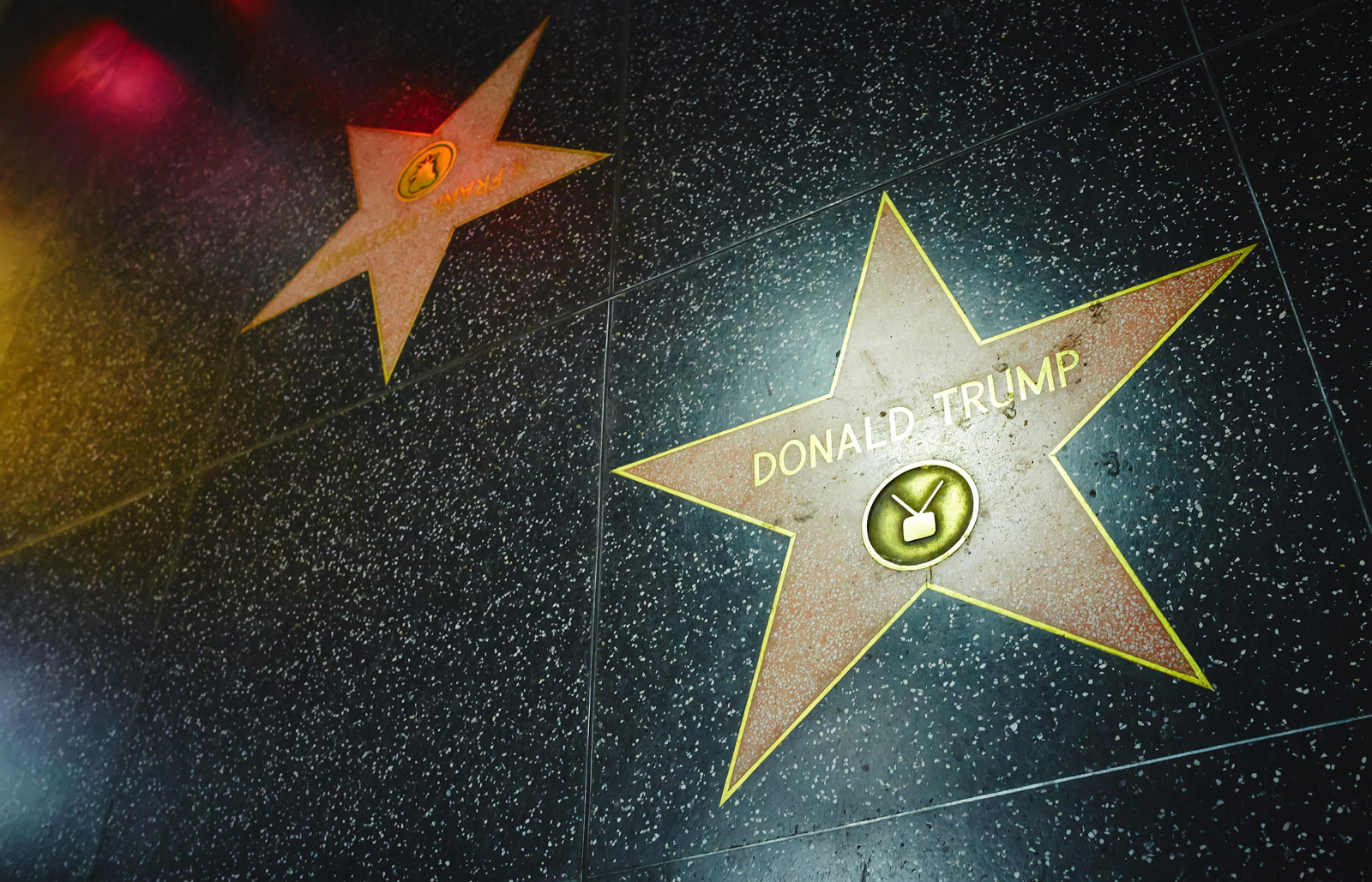 Yes, and unfortunately I did not find Monica Bellucci's star. Probably it does not exists in Hollywood, but definitely should 🙂